Wenn man Dinge auf dem Tisch von oben herab abfotografieren möchte und kein Akrobat ist, braucht Hilfsmittel. Oder man bedient sich des Desk Stand LS11.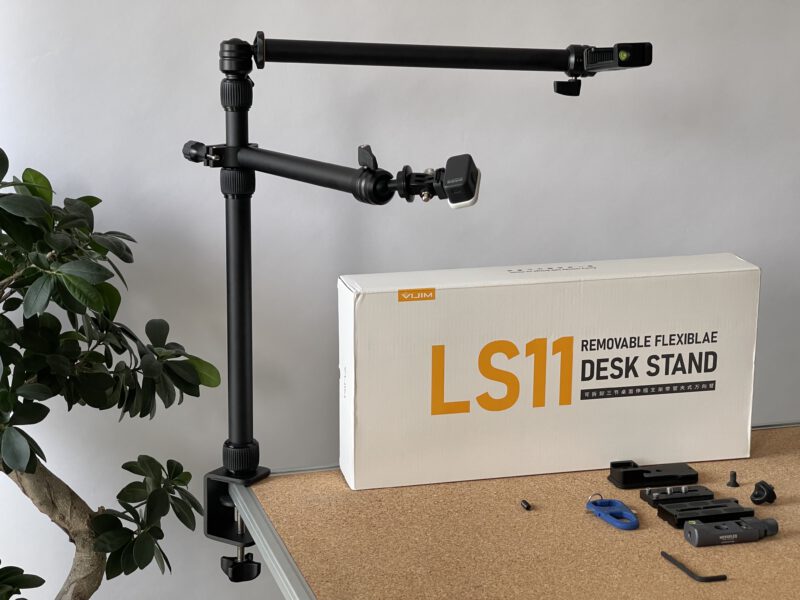 Er besteht aus einer Klemme, einer vertikalen Säule mit zwei Auszügen, zwei Auslegearmen. Der obere Auslegearm ist an einem Kugelkopf befestigt. An seinem Ende befindet sich wiederum ein Kugelkopf. Der andere Auslegearm wird mit einer Schelle am Standrohr befestigt. Das geht sowohl unten am Standrohr als auch am ersten Auszug. Auch dieser Auslegearm hat einen Kugelkopf.
Die Traglast ist mit 1KG angegeben. Die Verarbeitungsqualität ist gut.
Ich habe oben eine Klemme für mein Smartphone und unten ein kleines LED Licht angebracht.
Datenblatt:
Klemme für Platten bis zu 5 cm Stärke
Höhe von 38 cm bis 84 cm
Oberer Ausleger 33 cm
Unterer Ausleger 23 cm
Wenn die Reichweite des oberen Auslegers nicht reichen sollte, kann man diesen an den unteren Ausleger anschrauben. Die maximale Arbeitshöhe ist dann geringer, weil die Klemme an dem dritten obersten Auszug nicht hält. VIJIM hat neben dem LS11 noch weitere interessante Lösungen im Angebot. Die Webseite habe ich unten verlinkt. An dieser Stelle noch der Hinweis #Transparenz Der Deskstand wurde mir kostenlos zur Verfügung gestellt.
Mein Fazit: Absolut brauchbar und empfehlenswert.
Link zur Webseite des Anbieters: https://vijimlight.com/products/vijim-ls11-camera-mount-desk-stand-with-auxiliary-holding-arm
Thanks to Uwe Möbus for the review article, here is the link to the original article.